Ted's Aircraft Shop
The Shop, page 3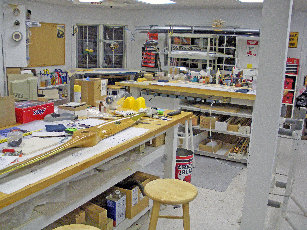 The larger studio, adjacent to the shop, is 24 feet wide and 27 feet long. It has a door, two walk-out sliding doors, and a bay window overlooking the woods in back. The studio contains two large work benches—both with tops 4 feet by 8 feet in size. One is 36 inches high, and the other is 42 inches high--the taller one better for balsa modeling—and dominated by radio control modeling tools. The studio has a desk for paperwork with overhead bookshelves, a large drafting table, a soldering bench, a storage bench for collections of small projects and projects ready to go, several rolling work units, and two large birch bookcases of books, technical reports, and aircraft records. In the studio, the completed wings and the C-85 engine on their stands are stored. Completed subassemblies—ailerons, jury struts, extra ribs
and leading edge panels, and boxes of stored parts are kept on a six-foot high storage unit.
A smaller "book case" holds every type of lubricant, thinner, acetone, MEK, methanol, epoxy glues, aluminum etching and cleaning chemicals, and crack inspection chemicals.
At times, I use one bay of my garage as a large spray booth. One car has to park outside. It is large enough to paint the 17 foot long wings and the fuselage. I put it together with plastic sheet from Home Depot, two window exhaust fans, poles to hold the top of the plastic to the ceiling, and bricks and cement block to hold the bottom of the plastic to the floor. I cover the floor with paper and spray away.
I share a hangar at Zelienople Municipal Airport with Rich Edmunds. I store my Aeronca L-16A there with his Long-EZ. I also store unused Cub parts, extra control surfaces, the wheels and tires, and most of my disposable supplies—oil, dope, grease, cleaning materials, batteries, and tape.